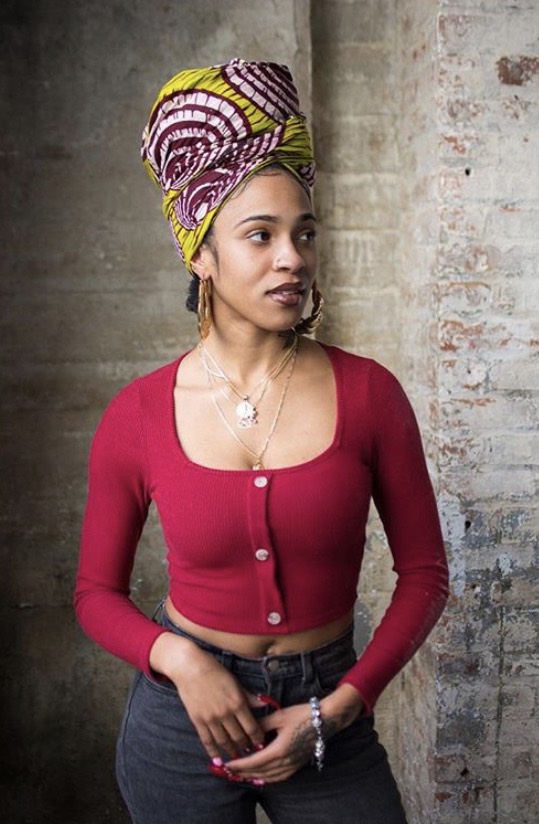 Thiahera Nurse writes to "heal and be healed" — or at least, she used to.
"I wrote that in a bio at my peak, 'poetry heals all,' you know what I mean? I still carry a lot of that energy but it comes with some erosion," Thiahera said. "Some tragedies you write on the page are just going to bleed. Sometimes you're writing through these traumas or violence or these episodes of hurt and you're trying to heal from that, and when you get to the end of the page there is no bandage for that wound."
That recognition — that art can heal and bleed openly at the same time — is where Thiahera's poetry draws a lot of its power. Reading through her work you can feel, palpably, the pain in her words. Every scratch and scar is buried in those stanzas.
And it's true: sometimes you finish reading and they are still there, open wounds tender to the touch, dripping blood. But there is something restorative in naming that violence out loud, as Thiahera put it. There's resistance in identifying a trauma that has long gone unnamed.
Thiahera started taking poetry seriously when she began participating in Urban Word NYC workshops and events, but her artistic journey started long before that. As a kid growing up in Queens, she wrote and talked about everything.
"I was always writing terrible raps when I was a kid and then it evolved to these weird hood sci-fi dramas," she said. "There was a lot of Def Poetry Jams online and I was a really big internet nerd. I watched poetry there and then I got to Urban Word when I was 16. That's when I started to write and perform."
Urban Word, a youth literacy organization based in Midtown Manhattan, hosts workshops, open mics, and poetry slams throughout the year for young New York writers. Now under the directorship of First Wave alum Sofía Snow (first cohort), Urban Word was Thiahera's first organized access point to the world of poetry.
She started just going to workshops and open mics, getting involved in a few small-scale performance opportunities here and there. But even in high school, Thiahera's work was several steps above average, and she worked her way into some of the biggest poetry venues in the city.
But while Urban Word gave Thiahera a platform to make herself visible to the whole poetry world, it was ultimately the small community of young writers there that she found herself most impacted by. They made a home in each other, writing, healing, and growing with one another in the spaces they found. That's where Thiahera learned about First Wave.
"I was writing with my friends. That was the fun part," she said. "They told us about First Wave. It was always known that there was this thing — that we could do hip hop and poetry in college. It was an opportunity that we always knew was there."
So in the Fall of 2010, Thiahera Nurse, of Queens, New York, found herself in Madison, Wisconsin, with about a dozen other hip hop artists, about to start college. She wouldn't leave for seven years.
It's a tough transition, to say the least, leaving home to go to college hundreds of miles away. It's a transition that can be exacerbated for Black students, particularly in Madison. Writing away from home can be daunting at times, in a new space for the first time without the network of support you've always known, especially at an age where change is inevitable.
"It's interesting — [Madison] is the place I felt so triumphant and victorious in some ways, and then there were other days where I couldn't even lift my eyes off the ground," Thiahera said. "You have days where you're riding this energy of depression and it's negative-40 degrees outside. It's so difficult to not put an expletive on that. It hurts. I had to experiment and do different things on the page because I was going through so many shifts."
While Madison never quite became "home" for Thiahera, First Wave certainly did. Sofía Snow, Jasmine Mans, Elton Ferdinand III, the people in her cohort — this is her family. And that's why now, long after many of them have left Madison, Thiahera's voice jumps an octave when she talks about coming back as a featured guest for the Just Bust! Open Mic.
"I found home in so many people there," she said. "The poems that I will share have put me through the ringer. When you think about blood, sweat, and tears, that's exactly what's in this. Blood, sweat, and tears."
That blood and pain that is so intensely visible in much of Thiahera's writing will be there. It will offer no shelter from its truth and it may never find a bandage. It might just bleed.
But no matter how much her performance might hurt, it will, above all else, be a space for healing. A space for freedom. A space for home.
"I just want the night to feel bright. I want it to feel full. I want to see people's faces, I want to see them smiling, I want to see teeth, I want to see hands, I want to feel everyone. I just want the night to feel free."
The headline for this story comes from a question posed to Thiahera by her friend Nabila Lovelace.