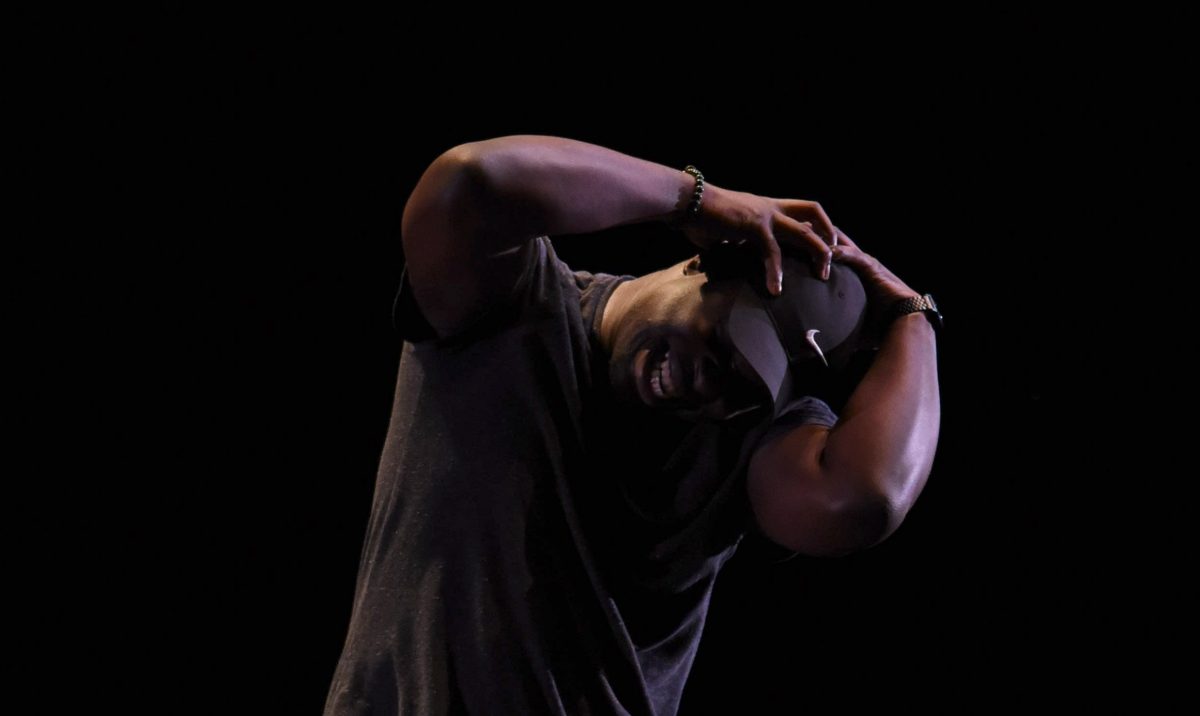 Talking with James D. Gavins, you can't take any time off. He'll have you thinking from the moment you shake his hand until long after you say goodbye.
Even answering seemingly benign questions, like where he's from, James hints at something deeper. Something intellectual.
"That kind of gets complicated … I'm from Chicago. I'm from gangs and corner stores. The hood. I've been realizing that sometimes that's where I'm the most comfortable," he tells me. "Not knowing where I actually come from, you know — Black stuff."
James is constantly thinking this way, examining how his existence is informed by the past. He strikes me as the kind of person that just absorbs information, and I think that's because he is. He has such a profound curiosity for the world, both real and supernatural, and there's very little that can stop him from exploring it.
It was that same overwhelming curiosity that brought him to First Wave, taking him first through a winding road of countless artistic disciplines, each one just a new opportunity to inhale a skill. Like Kirby, he says.
"The first time I got into wanting to do anything, I was going to school and they were having a recital and I saw this bboy, and I had never seen a breakdancer before. Dude started getting down and I just remember standing up like, 'I gotta do that. I have to. I have to learn how to do that,'" James said.
"Everything that I saw I was like, 'I gotta do it. I gotta figure this out.' Next thing you know I was doing a little bit of everything. Shooting my own music videos, editing my own music videos, I just became this one-stop shop for anything anybody needed to get done."
By the time he was ready to graduate high school, James' art was so necessarily interdisciplinary that he was practically tailor-made for the First Wave program. He was mostly a dancer — or at least, dancing was his most refined medium — but every dance had a song he wrote, every song had a video he shot. It was all done in house.
You can tell James takes a lot of pride in doing everything himself — in never needing to ask for help while creating. It makes sense, in a way; he moved a lot growing up, and when your environment changes so frequently, it can be safest to just rely on yourself.
"I've had to detach from places a lot most of my life," he said. "I've had to go, 'Ok, I've gotta go get new friends. Ok, I'm going to a new area.' That's normal to me. It's not like I've had the same childhood friends since I was three."
This large-scale DIY attitude toward creating gives James a lot of personal strength, and it's something he doesn't want to hold for himself. He feels like his multi-tool artistic approach is what's laid the path that he took, and he wants to impart that onto the next generation of artists.
And that's exactly what he's doing now as the Performing Arts Director for Youth Arts Initiatives/Boys & Girls Clubs of Greater Green Bay.
"I told myself I don't want kids to have to go on an adventure to figure out everything that I figured out," James said. "I want them to know that, 'Ok, you want to be a rapper? If you want to be a rapper, you should also learn how to be a producer. You should also learn how to be an engineer. You should also learn how to shoot videos, edit music videos.'"
"Everybody ain't able to pay a person to do your video or do your production. I need kids to know that they can just do everything. They can figure it out and always get everything they need to get done and it doesn't have to be a financial problem."
And it's exactly that attitude — that you can "figure it out" — that frames James' Line Breaks show, "Cicada." It's a show that's as interdisciplinary as they come. It's reflective, again, of that curiosity emanating from James' being.
It will have dance, it will have music, theater, stand-up comedy. Name an art form and it's probably incorporated into "Cicada." And that's a perfect vessel for the content of his show, which he said has been described as "Black Mirror meets Get Out."
James won't let me disclose many details about his show, but it's truly unlike anything else. It's a brilliantly weird, well thought-out trip through his ever-wandering brain, and that's an experience you can't get anywhere but in the theater watching James move.
"I don't want people to feel like they've seen my show. That's been my biggest fear of creating a one-man. I don't want people to feel like they know my show," he said. "That's what I love about hip hop theater in the first place. People will give you more time in a theater than they will give your music. You get to hold them in disbelief and confusion way longer."
There will certainly be confusion during his show, but not in a "what's-going-on" way. "Cicada" is too well-crafted for that. The confusion is going to come from wondering how the plot can feel so science-fiction and so immediately tangible at the same time.
This is a show quite a while in the making, but it's a moment even longer so.
"I remember I was walking down the street with Rafael Casal when he was the Creative Director and he was like, 'You need to do a one-man.' And this Line Breaks, years and years later, is my deadline," James said. "I felt like there was a lot more life experience I needed. There was a lot of stuff I needed to tell this story. I wasn't ready, but I'm ready now."