Office of Multicultural Arts Initiatives appoints new Faculty Artistic Director, Professor Mark H.
Professor Mark H. is the newly appointed Faculty Artistic Director of UW–Madison's Office of Multicultural Arts Initiatives (OMAI), home of the First Wave Hip Hop & Urban Arts Scholarship Program. OMAI is housed in the Division of Diversity, Equity, and Educational Achievement (DDEEA).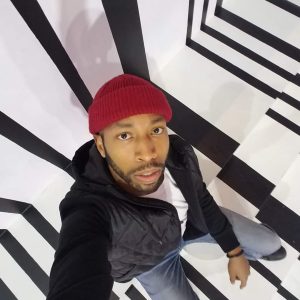 Professor H. is a director, performer, scholar and educator with a primary focus on physical theaters and American and African diasporic performance. For close to two decades, he has been a professional multidisciplinary theater artist, with a body of work ranging from the classical to the experimental, from text-based to physical and produced in performance spaces both traditional and unconventional. He is most drawn to and inspired by performance that is highly physical, ancient, postdramatic, interdisciplinary, Afrofuturistic, immersive, underground, divine, sustainable and aimed at individual and community development. He approaches performance as a rite/right, as an art and as a vital technology for sight, development, liberation and healing. Mark H. received his BFA in Acting with High Honors from Rutgers University and is a graduate of the MFA Directing program at Columbia University. He is currently faculty in UW–Madison's Department of Theatre and Drama.
"To have Professor Mark H. join our unit in this leadership capacity is a true honor," says OMAI Director Sofía Snow. "First Wave is the first, and currently the only four-year full tuition scholarship for Hip Hop and urban arts in the country. To have a scholar, artist and educator like Professor H. at the helm of our program's pedagogy and artistic curriculum is a dream come true. Mark's field of research and expertise can only take OMAI and the First Wave Program to the next level."
In response to Professor H.'s two-year appointment, he commented:
In the four years I have worked at UW–Madison, I have found myself involved with First Wave as a spectator, a guest lecturer, a mentor and an artistic collaborator. This is where some of the most exciting art in Madison is happening – the energy is palpable – and I so wanted to be a part of that in any way I could. That is why I am thrilled to be entering into this new role as First Wave Faculty Artistic Director. The students in the program radiate brilliance. They have a profound awareness of themselves and the problems we all face, and are determined to boldly use their voices to speak, shout, rap and sing into existence the world they envision. As a director, performer, scholar and educator with a primary focus on physical theaters and American and African diasporic performance, I look forward to using my particular expertise to assist in amplifying those voices and helping our young artist-scholars more freely and fully embody their ideas. Ultimately, the goal is to guide them towards reaching their fullest potential as human beings, as performers and as the leaders they already are. Forward we go!
"I am excited about what this appointment means for the future of the First Wave Program," shares OMAI's founding Faculty Artistic Director, Professor Chris Walker, now the Director of the Division of the Arts, "Mark H.'s research demonstrates a commitment to justice and equity, and his ability to guide young artists in 'retrieving, preserving and expanding African/American cultural heritage' aligns with the mission of the Office of Multicultural Arts Initiatives. I look forward to him advancing the work and guiding this community in developing contemporary art centered on the unique experiences of our students and rooted in the program's pillars of Arts, Activism and Academics."
Dr. Raul Leon, Assistant Vice Provost for Student Engagement and Scholarship Programs (SESP), who oversees OMAI as part of the Student Scholarship Portfolio, shared that "faculty leadership is at the core of creating and supporting sustainable and transformational initiatives focused on providing students with a world-class experience at UW–Madison."  Professor H. began his appointment in January 2023, and will debut his work as OMAI Faculty Artistic Director with two production's in OMAI's 16th Annual Line Breaks Hip Hop Theater Festival, March 31-April 1, 2023 in Memorial Union's Shannon Hall. Click here for more information and free ticket registration.