Passing The Mic (PTM) is an intergenerational dialogue on hip hop arts, education, and activism hosted by the award winning Office of Multicultural Arts Initiatives (OMAI)  at the University of Wisconsin-Madison, in partnership with the DDEEA Diversity Forum, School of Education, Arts Division, Interdisciplinary Artist Residency Program, Jenny Holzer, and the Wisconsin Book Festival.
Schedule of Events
7:00pm – 8:00pm Pass the Mic: an intergenerational showcase on the American Experiment
Opening showcase for this year's Passing the Mic: The American Experiment. We invite youth artists and their mentors from across the country to perform works that interrogate the American Experiment. What is The American Experiment? Will American lives be better as a result of this experiment? What is the role of democracy in this experiment? Who is the "control" in this experiment? How do we know that it's working? 
8:00pm – 9:00pm PtM Youth Workshop 1*: What is the American Experiment?
*closed to UW students + teen participants only
In this workshop, PtM youth participants will begin developing creative works for the PtM Thursday night youth showcase. Facilitated by First Wave Artistic Director, Professor Chris Walker, and FW Creative Director, James Gavins, participants will begin unpacking the week's theme of the American Experiment through various creative expressions (writing, movement, music, visual arts, etc).
8:30am – 5:30pm DDEEA Diversity Forum
THE PANDEMIC EFFECT: EXPOSING RACISM & INEQUITIES
The 2020 UW–Madison Diversity Forum will be held virtually on October 27-28. This year's forum will explore a convergence of contemporary issues from racial equity and social justice to disparities in health care and white privilege during two full days of speakers and interactive sessions. The virtual event is open to the public.
The university's premiere conference on diversity, equity and inclusion will feature a duo of keynote speakers, both of whom focus on the sociology and impact of race and race relations. On opening day, Tuesday, Oct. 27, the speaker will be Robin DiAngelo, Ph.D., author of the widely acclaimed bestseller "White Fragility: Why It's So Hard for White People to Talk About Racism". On Day 2, Wednesday, Oct. 28, the guest speaker will be Austin Channing Brown, author of New York Times bestseller, "I'm Still Here: Black Dignity in a World Made for Whiteness."
Please review our Frequently Asked Questions page to find answers to questions about the Diversity Forum, the registration process, or how the virtual conference will work.
2:30 PM – 4:00 PM Diversity Forum Town Hall – Racial Injustice in America: The Evolution Was Not Televised
This session will open with a performance by First Wave Hip Hop & Urban Arts Learning Community
7:00pm – 9:00pm Interdisciplinary Arts Residency Showcase
8:30am – 5:30pm Diversity Forum Day 2
3:30-4:45pm Diversity Forum First Wave Plenary: Democracy, Diversity, and the American Experiment
First Wave (FW) Artistic Director, Professor Chris Walker and FW Creative Director, James Gavins, will co-facilitate Democracy, Diversity, and the American Experiment: a performance dialogue created and presented by scholars of the First Wave Hip Hop & Urban Arts Scholarship Program at UW-Madison.
At the 2020 DDEEA Diversity Forum, we will explore ethical dilemmas that surround the idea of The American Experiment, in conjunction with OMAI/First Wave's 11th Annual Passing the Mic Intergenerational Hip Hop Theater Festival taking place every evening this week (to register for free events, visit omai.wisc.edu/passing-the-mic). This 75 minute performance / discussion session will prompt conversations around the complexities that come with existing in the American Experiment. Who does this experiment serve and is it equitable for all who exist within this space? 
The session will break in and out of performance, prompting the audience to discuss how they would handle the situation that has played out before them. The audience will participate through "call & response" with the performers and discuss prompts in their breakout rooms.
5:00pm – 6:30pm PtM Youth Workshop 2*: Form to Performance
*closed to UW students + teen participants only
In part two of the PtM Youth Workshop, participants will move their creative work from thoughts and ideas to the virtual stage in preparation for the Thursday evening youth showcase. 
7:00pm – 8:30pm First Wave Showcase: Past, Present and Future
As the First Wave Hip Hop & Urban Arts Learning Community enters its 15th year, this multimedia showcase will highlight performances by First Wave alumni and current First Wave scholars.
5:00pm – 6:30pm The Vote: Equity, Access, and The Experiment
This showcase, panel, and breakout session will interrogate what it means to vote: who has access, who has been denied, what is our electoral system and what does it mean to participate in it? It will highlight five regional Youth Poet Laureates of the National Youth Poet Laureate  Program by Urban Word NYC. Followed by a panel moderated by UWNYC Artistic Director, Mahogany L. Browne.
*Concurrent breakout sessions will take place during this time to conduct small 4-5 minute interviews that will inform a video project guided by this question: When did you first vote? When (if ever) have you been denied the right to vote?
*This project will showcase dialogues between artists and community members impacted by mass incarceration.  These exchanges will focus on the participants' thoughts and surrounding the 2020 voting season. The interview responses will be used to synthesize a short film. This production will also be embedded in an online zine. The visuals will be adjoined by poetic interludes from writer Mahogany L. Browne and several formerly incarcerated poets. The amplification of these voices typically silenced by the current legal system will highlight conditions that prevent equitable access to polling stations in what might be the most crucial election of our lifetime. Art as protest is a consistent theme in Mahogany L. Browne's work. Guided by her trajectory of poetry and community service, this collaborative project seeks to provide an unprecedented opportunity for participants and viewers to learn organizational strategies and healing practices that will help future community members navigate similar circumstances involving the prison industrial complex.
7:00pm – 8:30pm Passing the Mic Youth Showcase
"What is the American Experiment?"
Youth participants will perform original works as developed throughout workshops over the week with their mentors and the First Wave Artistic team.
5:30pm – 6:30pm Passing the Mic Youth Participant Closing Event* 
*closed to UW students + teen participants only
As the week intensive comes to close, youth participants will debrief, unpack the week and learn more about applying to the First Wave Hip Hop & Urban Arts Scholarship Program.
7:00pm – 8:30pm The Just & The Blind
Conceived and written by Marc Bamuthi Joseph
Original musical score by Daniel Bernard Roumain
Directed by Michael John Garcés
ARTISTS:
Marc Bamuthi Joseph, Spoken Word
and guest artists!
Poignant and pressing, The Just and The Blind illuminates the unseen and under-heard experiences of incarcerated youth and the realities their families face. Spoken word artist and arts activist Marc Bamuthi Joseph (BAMUTHI) joins forces with long-time collaborator composer/violinist Daniel Bernard  Roumain (DBR) and street dance pioneer & choreographer Drew Dollaz to explore themes of racial profiling, sentencing and the prison-industrial complex from the perspective of fathers of Black and Brown sons. 
In addition to spoken word, music, and dance, The Just and The Blind features the work of the award-winning investigative journalist Lisa Armstrong, the provocative images of photographer Brittsense, and the illustrative talent of Xia Gordon, woven together by media designer David Szlasa under the direction of Michael John Garcés.
Centered on the humanity of the historically marginalized, The Just and The Blind provides a framework for the unique voices of the community, striving to humanize the Black and Brown children who are enmeshed in it.
The Just and the Blind was commissioned by Carnegie Hall and presented as part of the 2019 Create Justice Forum.
The Just and the Blind was produced by Sozo Artists, Inc., in partnership with the Sozo Impact Fund and its fiscal sponsor, Silicon Valley Community Foundation, with support from Ford Foundation. Special thanks to Miami Light Project.
10:00am – 1:00pm Hip Hop in the Heartland Educator's Institute
Typically each spring and summer, UW-Madison's Office of Multicultural Arts Initiatives and School of Education team up to offer educators and community leaders an opportunity to connect hip hop as both an art form and an instructional tool to improve the academic success of students who remain marginalized in our schools. Hip Hop in the Heartland (HHH) draws from educational theories such as socio-cultural theory, culturally relevant pedagogy, critical race theory, and hip hop and social justice pedagogies.
Participants learn proven, hands-on techniques to develop lesson plans and strengthen their course study, as well as create a platform from which they will understand the scope of hip hop history, culture and politics.
The spring seminar is generally offered in April as a one day seminar, while the summer institute spans across three to four days in July to dive deeper into the topics outlined below. In light of 2020 CDC regulations and concerns, HHH will be held digitally in October, January, March and May. 
TOPICS
Gain a better understanding of the scope of hip hop history, culture, and politics, deepen your practice as a spoken word and hip hop educator, and engage in best practice approaches to student-centered liberatory education models.

Discover the best practices in hip hop and spoken word pedagogy

Learn skills to better reach and mentor your students

Improve academic achievement, reduce behavior issues and energize your classroom

Get practical strategies for increasing participation and building community

Meet new colleagues and enjoy UW-Madison's beautiful educator community!
Save the Date: October 26-31
Past Festival Information
This is an accordion element with a series of buttons that open and close related content panels.
2016 Performers/Guests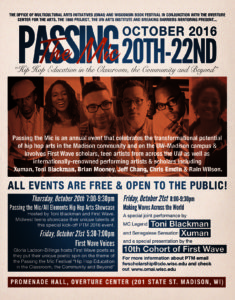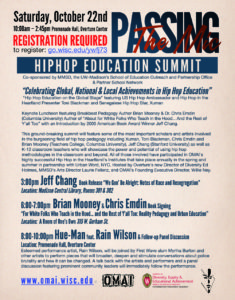 2014 Performers/Guests
Reginald Gaines: Grammy and Tony nominated winning writer.
Chinaka Hodge: Poet, educator, playwright and screenwriter.
Shawn Peters: Lecturer, journalist, author, UW-Madison Professor.
Kevin "Khao" Cates: Multi-Platinum Producer and creator of the Bridge DA Gap Curriculum.
Gloria Ladson-Billings: Kellner Family Professor of Urban Education in the Department of Curriculum and Instruction at UW-Madison.
Maisha T. Winn: Professor of Curriculum and Instruction at University of Madison-Wisconsin.
Dasha Kelly: a nationally-respected writer, artist and social entrepreneur.
Rain Wilson: Poet, playwright, visual artist, and Associate Artistic Director for First Wave.
Paul Hastil: Musician of New Breed Jazz Jam
Nick Moran: Musician of New Breed Jazz Jam
Robert Schoville: Percussionist
2013 Performers/Guests
Dominique Ricks: First Wave Scholar
Erika Dickerson: First Wave Scholar
Thiahera Nurse: First Wave Scholar
Rain Wilson: Poet, playwright, visual artist, and Associate Artistic Director for First Wave.
Dakota Alacantra-Camacho: First Wave Alumni
Richard Davis: American Jazz Bassist, UW-Madison Professor of Music
Gia Scott Heron: spoken word artist, poet, writer and author.
Lemon Andersen: American poet, spoken word artist and actor.
2012 Performers/Guests
Robbie Q.: American poet and poetry slam performer.
Frank X Walker: Poet, co-founder of Affrilachian Poets.
Lynda Barry: Discovery Fellow, American cartoonist, author, and Assistant Professor at UW-Madison.
Marques Toliver: Multi-instrumentalist, singer-songwriter, musician.
Amaud Johnson: Poet, UW-Madison English Professor
Wendy Vardaman: Poet, teacher, Co-editor.
Sarah Busse: Co-editor
CX Dillhunt: Author
Christopher Walker: UW-Madison assistant professor of Dance and First Wave Hip-Hop Theater Ensemble artistic director.
Bruce Dethlefsen: Wisconsin Poet Laureate
Brenda Cárdenas: Poet
Kimberly Blaeser: Creative Writing and Native American Literatures Professor at University of Wisconsin-Milwaukee, poet.
Cathryn Cofell: Poet, educator, motivational speaker, voice artist.
Shameaca Moore: First Wave scholar
Myriha Burton: First Wave scholar
Janel Herrera: First Wave scholar
Taylor Scott: First Wave scholar
Zhalarina Sanders: First Wave scholar
Paul Hastil: Musician of New Breed Jazz Jam
Nick Moran: Musician of New Breed Jazz Jam
Robert Schoville: Percussionist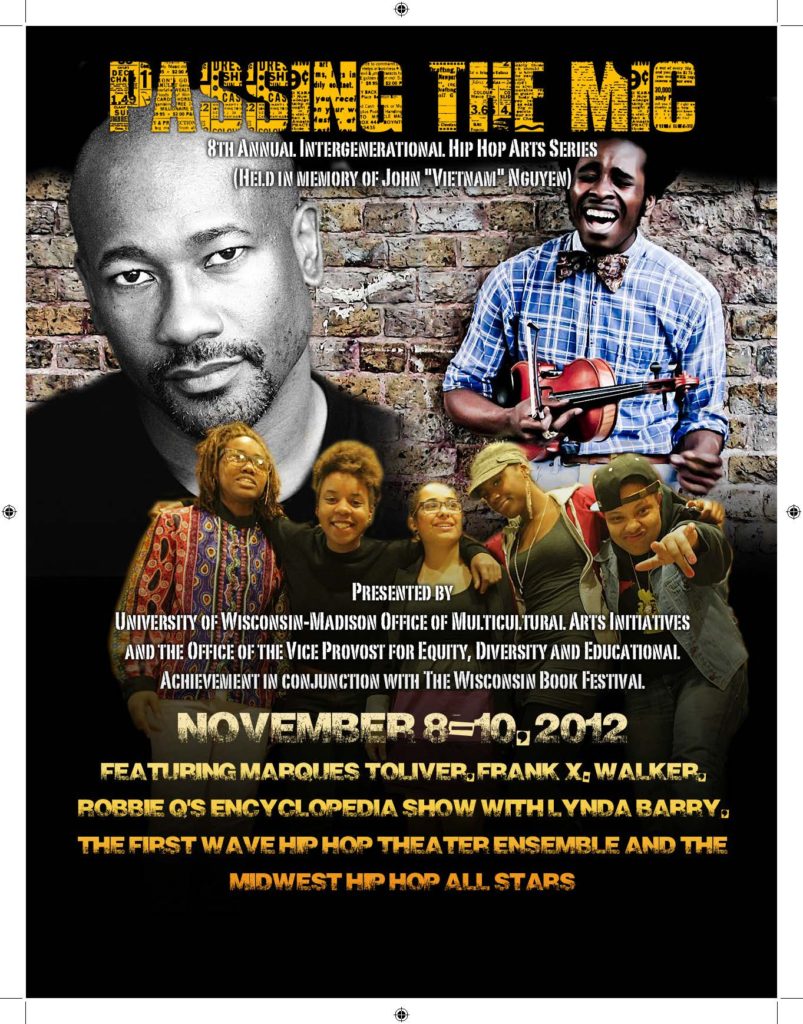 2011 Performers/Guests
Mayda del Valle: Poet, performer, teaching artist.
Black Ice: Poet from Russell Simmons' Def Poetry Jam.
Robbie Q.: American poet and poetry slam performer.
Shanny Jean Maney: Performance poet and teacher.
Sonia Sanchez: Poet, Mother, Professor, National and International lecturer on Black Culture and Literature, Women's Liberation, Peace and Racial Justice, sponsor of Women's International League for Peace and Freedom, board Member of MADRE, author of over 16 books.
Danny Simmons: Abstract expressionist painter.
Jessica Care-Moore: Internationally renowned poet, publisher, activist, rock star, playwright, actress, educator, thespian, filmmaker, performance artist, producer, five-time Showtime at the Apollo winner, and CEO of Moore Black Press.
2010 Performers/Guests
Mark Gonzales: Poet, educator, and international thought leader in using storytelling as a global health strategy. He is currently creating a model to unite youth artists inside juvenile halls with those within high schools through multi-media poetry to engage students in ending cycles of violence and emptying prisons.
Liza Garza: Emmy Award-nominated Liza Garza is a poet, vocalist and songwriter.
Susana Chávez Silverman: Poet and Professor of Romance Languages and Literature at Pomona College in Claremont, CA.
First Wave 2010 Hip Hop Theater Ensemble: "Turbulence: The Eve of Crashing"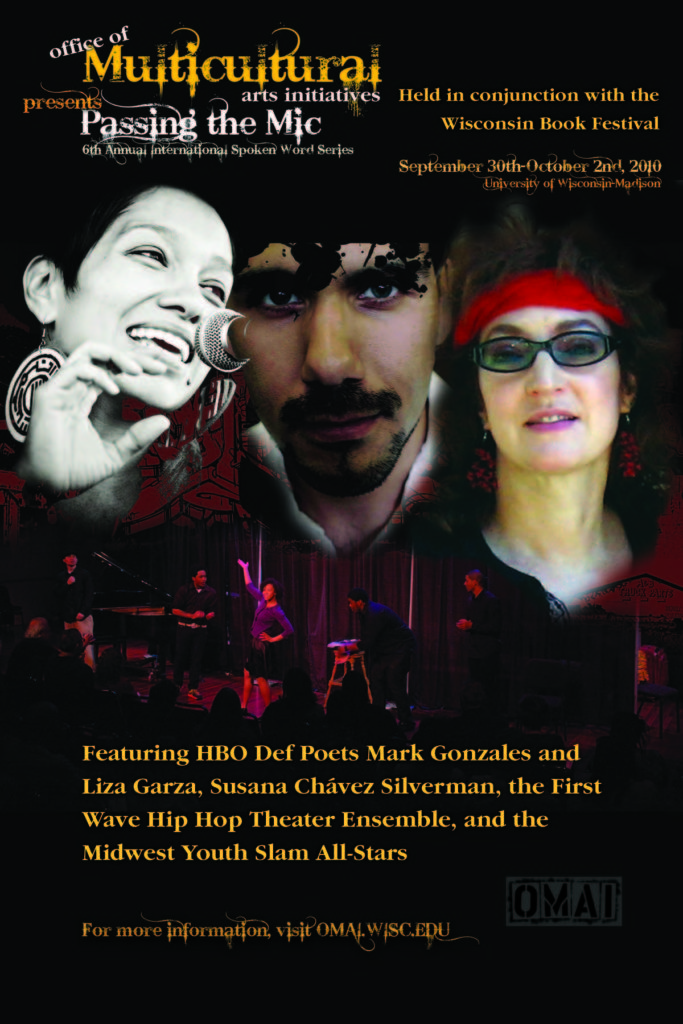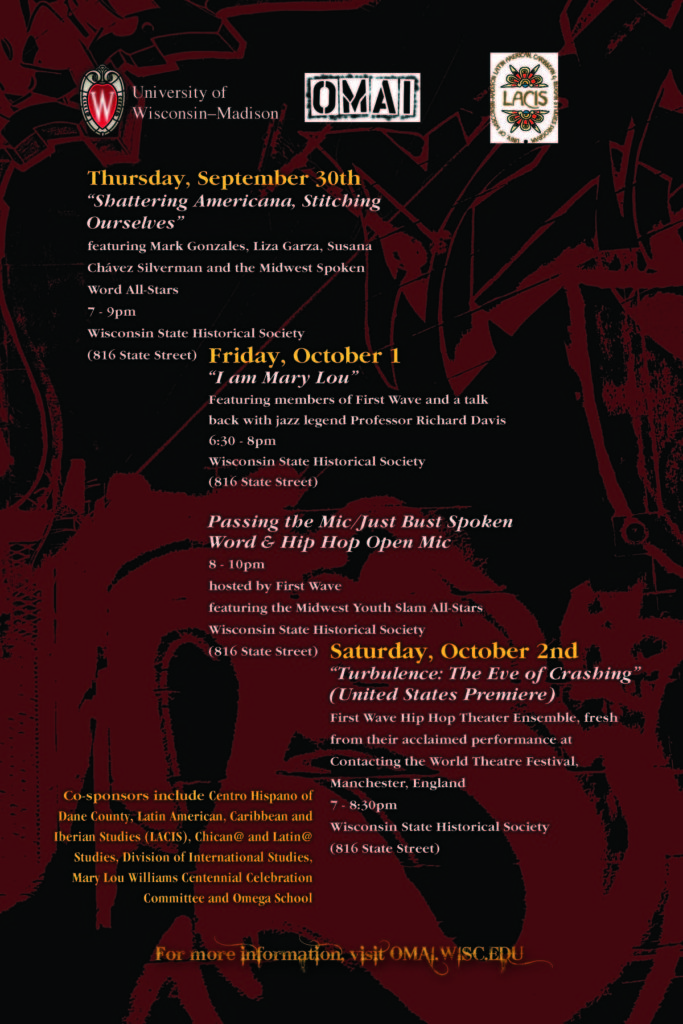 2009 Performers/Guests
Youth Speaks Hawaii (Elizabeth Soto, Jamaica Osorio, Ittai Wong, Bruce (Alaka'i) Kotrys): Youth Speaks Hawai'i, a program of non-profit Pacific Tongues, supported by the Hawai`i Arts Alliance, promotes teen literacy and civic engagement through the performance art of slam poetry by offering weekly writing workshops, hosting monthly poetry slams and open mics, organizing interscholastic poetry slams, and sending a youth team to national competition every summer.
Marty McConnell: Poet, Spoken Word artist.
Gregory Landau: Award-winning music/video producer, educator and music historian.
Phillip Montalban: Singer, songwriter, producer born in Nicaragua was part of a musical group called Soul Vibes.
Guillermo Anderson: Honduras's best-known World Music Artist.
Latisha Jones: Spoken word Artist, Activist, Educator, and Organizer based out of St. Paul, MN. Also, the founder, executive, and artistic director of a developing non-profit arts organization, TruArtSpeaks, Jones teaches performance art and creative writing in schools throughout the Twin Cities area as well as in prisons and other facilities with youth programming.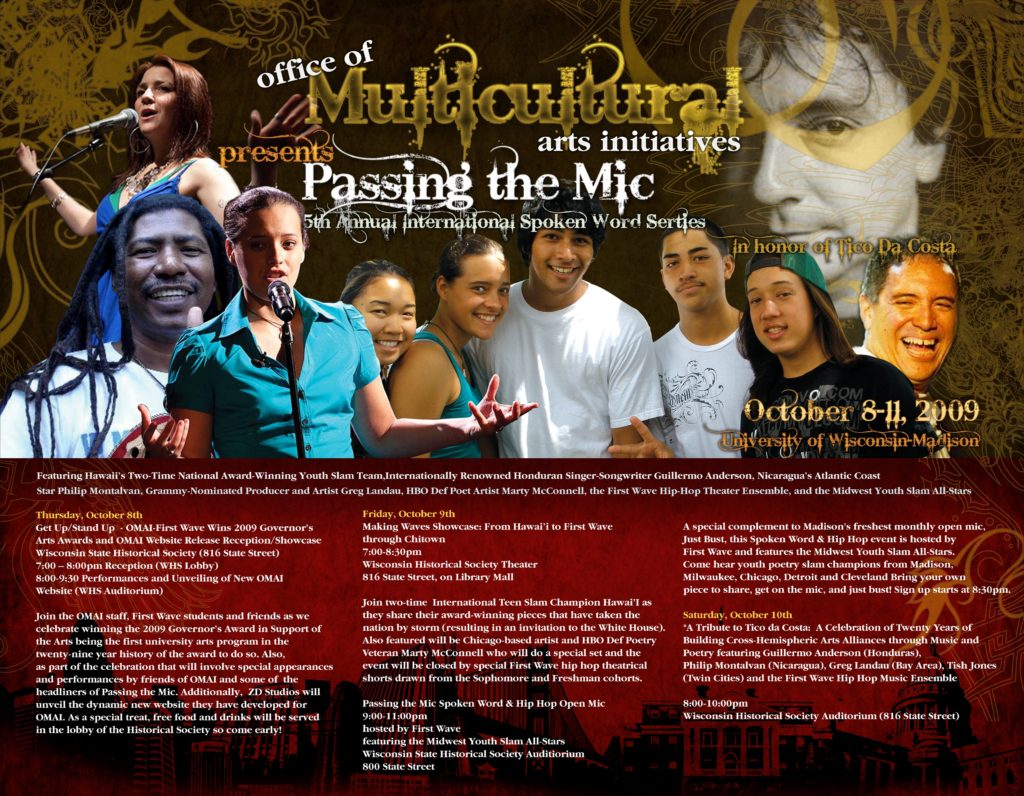 2008 Performers/Guests
Patricia Smith: Poet, spoken-word performer, playwright, author, writing teacher, and former journalist. She is on the faculties of the Stonecoast MFA Program in Creative Writing and the Low-Residency MFA Program in Creative Writing at Sierra Nevada College.
Dennis Kim: Hip-Hop and Spoken Word artist from Chicago, and a co-founder of I Was Born With Two Tongues, an Asian American spoken word quartet, and Typical Cats, a Chicago-based hip hop collective. He is a teaching artist at Youth Speaks, Inc.
Josh Healey: Award-winning writer, performer, and creative activist.
Kevin Coval: Poet, playwright, educator, organizer, Artistic Director of Young Chicago Authors.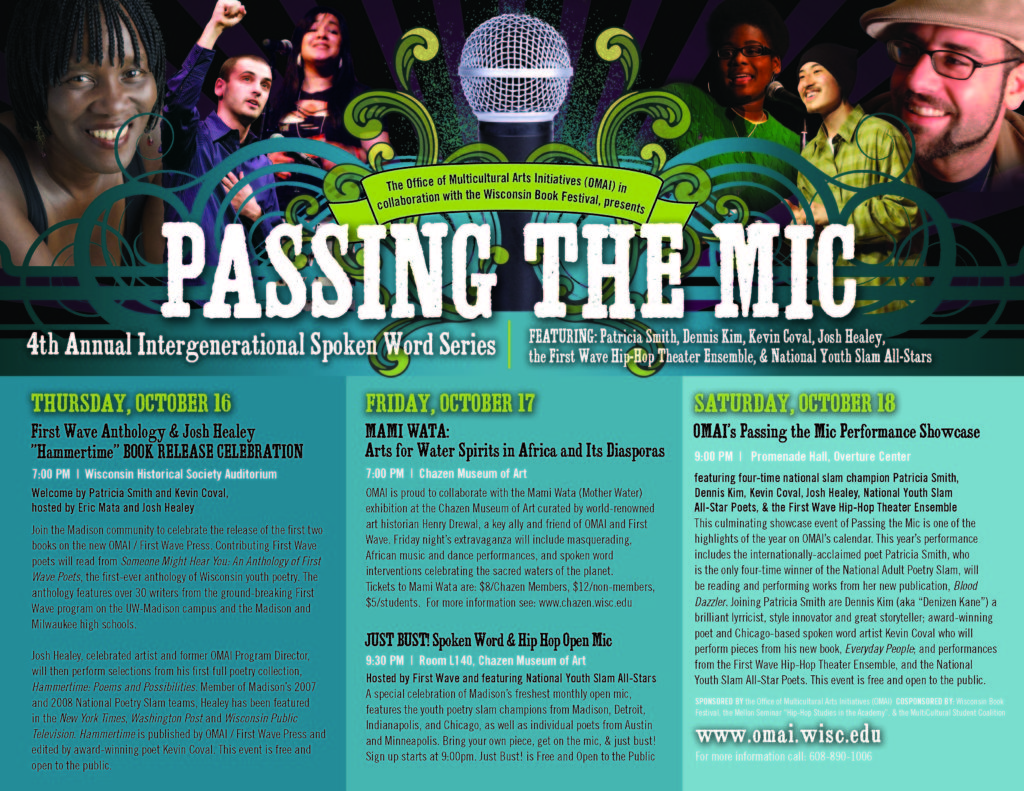 2007 Performers/Guests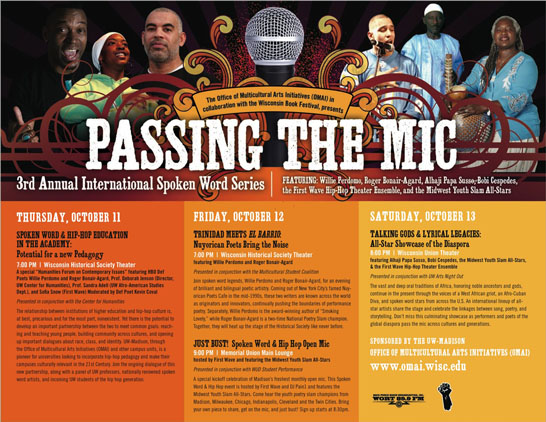 2006 Performers/Guests