The UW-Madison's award-winning Office of Multicultural Arts Initiatives (OMAI), home of the First Wave Scholarship program, partners with the WI Book Festival to present the 12th Annual Passing the Mic (PTM) Festival. This event is also in conjunction with The Overture Center for the Arts, The 1808 Project, The UW Arts Institute, Breaking Barriers Mentoring and Dane Arts. This year the theme of the festival is "Hip Hop Education in the Classroom, the Community and Beyond" and is in recognition of the growing importance and impact that hip hop pedagogy and education is having at the local, national and global levels.
This year's festival will include the First Annual Hip Hop Education Summit, featuring the signature artists headlining the Passing the Mic Festival and also Wisconsin educators who have attended OMAI's ground-breaking Hip Hop in the Heartland Educator's Institutes.
All of the events are free and open to the public and registration is only required for the 1st Annual Hip Hop Education Summit. To register for this event, please click here.  Limited space is available.  Register today!
Schedule
Thursday, Oct. 20
7-9:30 p.m. :: Passing the Mic / All Elements Hip Hop Arts Showcase featuring Midwest Hip Hop All Stars
Hosted by Toni Blackman & First Wave
Friday, Oct. 21
5:30-7 p.m. :: First Wave Voices
Gloria Ladson-Billings hosts First Wave poets as they put their unique poetic spin on the theme of the Passing the Mic festival, "Hip Hop Education in the Classroom, the Community and Beyond."
8-9:30 p.m. :: Showcase: Making Waves Across the World
A joint performance by MC Legend Toni Blackman and Senegalese Sensation Xuman, and a special presentation by the 10th Cohort of First Wave.
Saturday, Oct. 22
10 a.m. – 2:45 p.m. :: Hip Hop Education Summit
Please note that you must register to attend this event. Limited seating.
3 p.m. :: Jeff Chang Book Release
"We Gon' Be Alright: Notes on Race and Resegregation"
Madison Central Library, 201 W Mifflin St., Rooms 301 & 302
About Jeff Chang's We Gon' Be Alright: Notes on Race and Resegregation
In these provocative, powerful essays acclaimed writer/journalist Jeff Chang, author of Can't Stop Won't Stop and Who We Be, takes an incisive and wide-ranging look at the recent tragedies and widespread protests that have shaken the country. Through deep reporting with key activists and thinkers, passionately personal writing, and distinguished cultural criticism, We Gon' Be Alright links #BlackLivesMatter to #OscarsSoWhite, Ferguson to Washington D.C., the Great Migration to resurgent nativism.
Chang explores the rise and fall of the idea of "diversity," the roots of student protest, changing ideas about Asian Americanness, and the impact of a century of racial separation in housing. He argues that resegregation is the unexamined condition of our time, the undoing of which is key to moving the nation forward to racial justice and cultural equity.
6-7 p.m. :: Brian Mooney and Chris Emdin Book Signing
A Room of One's Own, 315 W Gorham St.
About Brian Mooney's Breakbeat Pedagogy:
Breakbeat Pedagogy provides a groundbreaking framework for the inclusion of Hip Hop culture in schools. Working from the perspective of a classroom teacher, Mooney reflects on the story of Word Up!, a Hip Hop and spoken word poetry event that began with students in a New Jersey high school, making the case for a pedagogy with the potential to transform urban schools and the way we think about them. This is essential reading for any teacher committed to social justice and culturally responsive education.
About Chris Emdin's For White Folks Who Teach In The Hood…and the Rest of Y'all Too: Reality Pedagogy and Urban Education:
Merging real stories with theory, research, and practice, a prominent scholar offers a new approach to teaching and learning for every stakeholder in urban education. Drawing on his own experience of feeling undervalued and invisible in classrooms as a young man of color and merging his experiences with more than a decade of teaching and researching in urban America, award-winning educator Christopher Emdin offers a new lens on an approach to teaching and learning in urban schools.
He begins by taking to task the perception of urban youth of color as unteachable, and he challenges educators to embrace and respect each student's culture and to reimagine the classroom as a site where roles are reversed and students become the experts in their own learning. Putting forth his theory of Reality Pedagogy, Emdin provides practical tools to unleash the brilliance and eagerness of youth and educators alike both of whom have been typecast and stymied by outdated modes of thinking about urban education. With this fresh and engaging new pedagogical vision, Emdin demonstrates the importance of creating a family structure and building communities within the classroom, using culturally relevant strategies like hip-hop music and call-and-response, and connecting the experiences of urban youth to indigenous populations globally.
Merging real stories with theory, research, and practice, Emdin shows how by implementing the Seven C's of reality pedagogy in their own classrooms, urban youth of color benefit from truly transformative education. Lively, accessible, and revelatory, For White Folks Who Teach in the Hood…and the Rest of Y all Too is the much-needed antidote to traditional top-down pedagogy and promises to radically reframe the landscape of urban education for the better.
8-10 p.m. :: Hue-Man featuring Rain Wilson, First Wave alum Myriha Burton, and follow-up panel discussion featuring community leaders.
Esteemed performance artist, Rain Wilson, will be joined by First Wave alum Myriha Burton and other artists to perform pieces that will broaden, deepen, and stimulate conversations about police brutality and how it can be changed. A talk back with the artists and performers and a panel discussion featuring prominent community leaders will immediately follow the performance.
2016 Festival Poster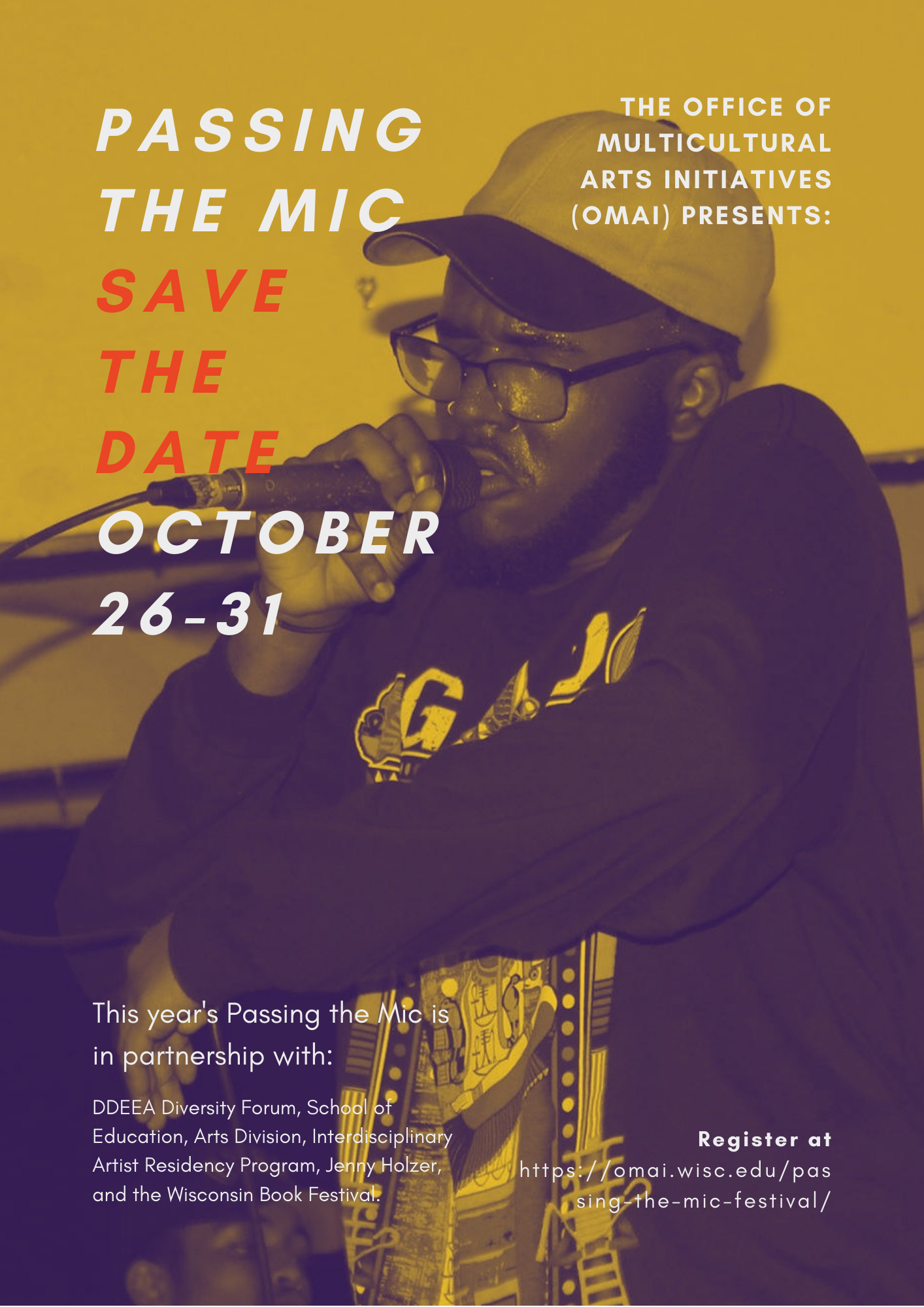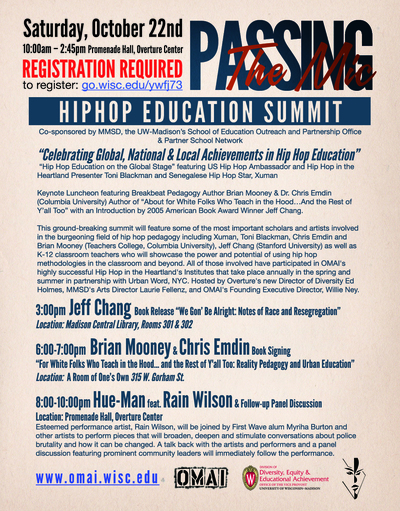 Past Festival Information
This is an accordion element with a series of buttons that open and close related content panels.
2014 Performers/Guests
Reginald Gaines: Grammy and Tony nominated winning writer.
Chinaka Hodge: Poet, educator, playwright and screenwriter.
Shawn Peters: Lecturer, journalist, author, UW-Madison Professor.
Kevin "Khao" Cates: Multi-Platinum Producer and creator of the Bridge DA Gap Curriculum.
Gloria Ladson-Billings: Kellner Family Professor of Urban Education in the Department of Curriculum and Instruction at UW-Madison.
Maisha T. Winn: Professor of Curriculum and Instruction at University of Madison-Wisconsin.
Dasha Kelly: a nationally-respected writer, artist and social entrepreneur.
Rain Wilson: Poet, playwright, visual artist, and Associate Artistic Director for First Wave.
Paul Hastil: Musician of New Breed Jazz Jam
Nick Moran: Musician of New Breed Jazz Jam
Robert Schoville: Percussionist
2013 Performers/Guests
Dominique Ricks: First Wave Scholar
Erika Dickerson: First Wave Scholar
Thiahera Nurse: First Wave Scholar
Rain Wilson: Poet, playwright, visual artist, and Associate Artistic Director for First Wave.
Dakota Alacantra-Camacho: First Wave Alumni
Richard Davis: American Jazz Bassist, UW-Madison Professor of Music
Gia Scott Heron: spoken word artist, poet, writer and author.
Lemon Andersen: American poet, spoken word artist and actor.
2012 Performers/Guests
Robbie Q.: American poet and poetry slam performer.
Frank X Walker: Poet, co-founder of Affrilachian Poets.
Lynda Barry: Discovery Fellow, American cartoonist, author, and Assistant Professor at UW-Madison.
Marques Toliver: Multi-instrumentalist, singer-songwriter, musician.
Amaud Johnson: Poet, UW-Madison English Professor
Wendy Vardaman: Poet, teacher, Co-editor.
Sarah Busse: Co-editor
CX Dillhunt: Author
Christopher Walker: UW-Madison assistant professor of Dance and First Wave Hip-Hop Theater Ensemble artistic director.
Bruce Dethlefsen: Wisconsin Poet Laureate
Brenda Cárdenas: Poet
Kimberly Blaeser: Creative Writing and Native American Literatures Professor at University of Wisconsin-Milwaukee, poet.
Cathryn Cofell: Poet, educator, motivational speaker, voice artist.
Shameaca Moore: First Wave scholar
Myriha Burton: First Wave scholar
Janel Herrera: First Wave scholar
Taylor Scott: First Wave scholar
Zhalarina Sanders: First Wave scholar
Paul Hastil: Musician of New Breed Jazz Jam
Nick Moran: Musician of New Breed Jazz Jam
Robert Schoville: Percussionist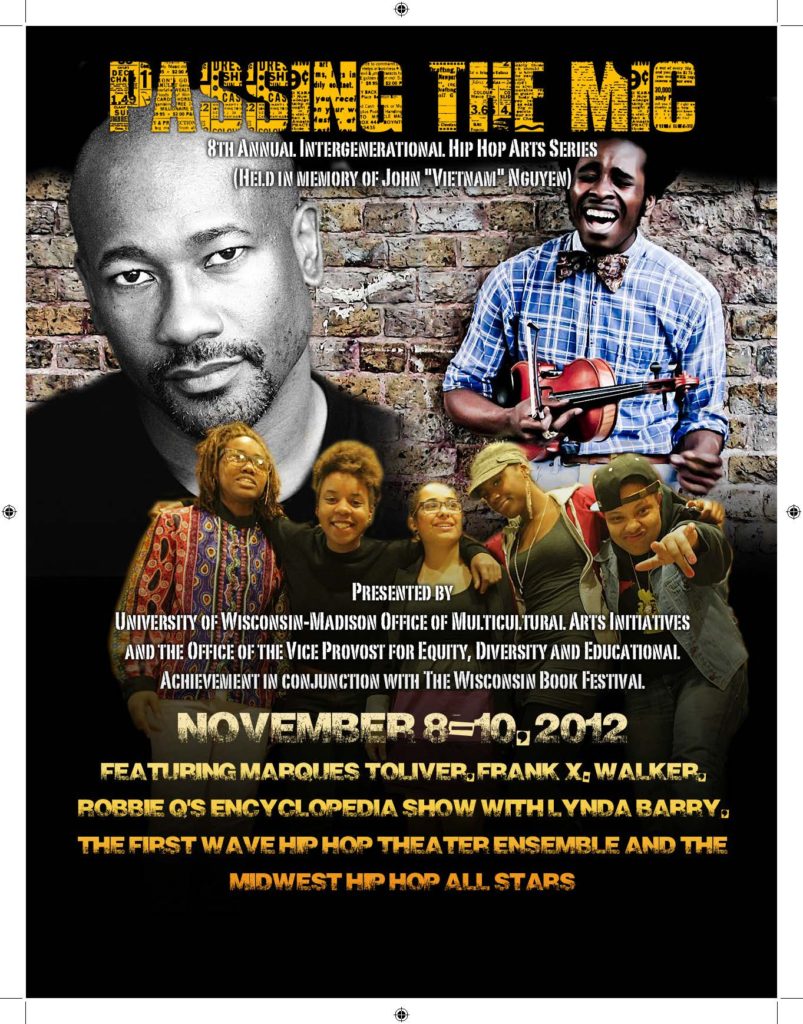 2011 Performers/Guests
Mayda del Valle: Poet, performer, teaching artist.
Black Ice: Poet from Russell Simmons' Def Poetry Jam.
Robbie Q.: American poet and poetry slam performer.
Shanny Jean Maney: Performance poet and teacher.
Sonia Sanchez: Poet, Mother, Professor, National and International lecturer on Black Culture and Literature, Women's Liberation, Peace and Racial Justice, sponsor of Women's International League for Peace and Freedom, board Member of MADRE, author of over 16 books.
Danny Simmons: Abstract expressionist painter.
Jessica Care-Moore: Internationally renowned poet, publisher, activist, rock star, playwright, actress, educator, thespian, filmmaker, performance artist, producer, five-time Showtime at the Apollo winner, and CEO of Moore Black Press.
2010 Performers/Guests
Mark Gonzales: Poet, educator, and international thought leader in using storytelling as a global health strategy. He is currently creating a model to unite youth artists inside juvenile halls with those within high schools through multi-media poetry to engage students in ending cycles of violence and emptying prisons.
Liza Garza: Emmy Award-nominated Liza Garza is a poet, vocalist and songwriter.
Susana Chávez Silverman: Poet and Professor of Romance Languages and Literature at Pomona College in Claremont, CA.
First Wave 2010 Hip Hop Theater Ensemble: "Turbulence: The Eve of Crashing"
2009 Performers/Guests
Youth Speaks Hawaii (Elizabeth Soto, Jamaica Osorio, Ittai Wong, Bruce (Alaka'i) Kotrys): Youth Speaks Hawai'i, a program of non-profit Pacific Tongues, supported by the Hawai`i Arts Alliance, promotes teen literacy and civic engagement through the performance art of slam poetry by offering weekly writing workshops, hosting monthly poetry slams and open mics, organizing interscholastic poetry slams, and sending a youth team to national competition every summer.
Marty McConnell: Poet, Spoken Word artist.
Gregory Landau: Award-winning music/video producer, educator and music historian.
Phillip Montalban: Singer, songwriter, producer born in Nicaragua was part of a musical group called Soul Vibes.
Guillermo Anderson: Honduras's best-known World Music Artist.
Latisha Jones: Spoken word Artist, Activist, Educator, and Organizer based out of St. Paul, MN. Also, the founder, executive, and artistic director of a developing non-profit arts organization, TruArtSpeaks, Jones teaches performance art and creative writing in schools throughout the Twin Cities area as well as in prisons and other facilities with youth programming.
2008 Performers/Guests
Patricia Smith: Poet, spoken-word performer, playwright, author, writing teacher, and former journalist. She is on the faculties of the Stonecoast MFA Program in Creative Writing and the Low-Residency MFA Program in Creative Writing at Sierra Nevada College.
Dennis Kim: Hip-Hop and Spoken Word artist from Chicago, and a co-founder of I Was Born With Two Tongues, an Asian American spoken word quartet, and Typical Cats, a Chicago-based hip hop collective. He is a teaching artist at Youth Speaks, Inc.
Josh Healey: Award-winning writer, performer, and creative activist.
Kevin Coval: Poet, playwright, educator, organizer, Artistic Director of Young Chicago Authors.
2007 Performers/Guests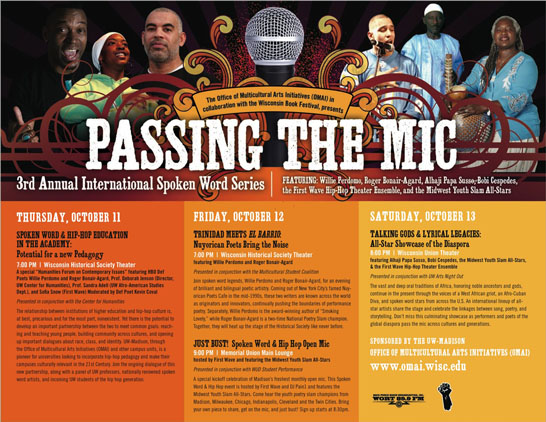 2006 Performers/Guests