Passing The Mic (PTM) is an intergenerational dialogue on hip hop arts, education, and activism hosted by the award winning Office of Multicultural Arts Initiatives (OMAI)  at the University of Wisconsin-Madison, in partnership with the DDEEA Diversity Forum, School of Education, Arts Division, Interdisciplinary Artist Residency Program, Jenny Holzer, and the Wisconsin Book Festival.
Into the Multiverse
The Multiverse is where the dimensions of past, present and future all intersect on the same timeline. If the last two years have taught us anything, they have emphasized the importance of now. The urgency of honoring real histories, real present pressing matters, real futures filled with hope and yet at stake. The 15th Annual Passing the Mic Intergenerational Hip Hop Festival is the Multiverse where these planes meet; where we bridge the gap between generations and silos; where we use song and poems, multi verses, movement and media, to demand radical documentation, collaboration, and celebration. Join us for a weekend of showcases, concerts, panels and workshops all dedicated to this conversation: where have we been, where are we going, what will we make possible and how in this Multiverse?
Hybrid Model
This year's PtM Festival will have a hybrid model of in-person and virtual youth events. While UW-Madison boasts a 92% vaccination rate as of early September, we are keeping a watchful eye on the Delta Variant and want to make sure young people in our national network can still participate, even if virtually.
We are inviting four (4) youth groups from the Midwest to attend in person, and additional youth organizations to attend virtually from our national network.
All in-person events will require masks to be worn inside all buildings, regardless of vaccination status.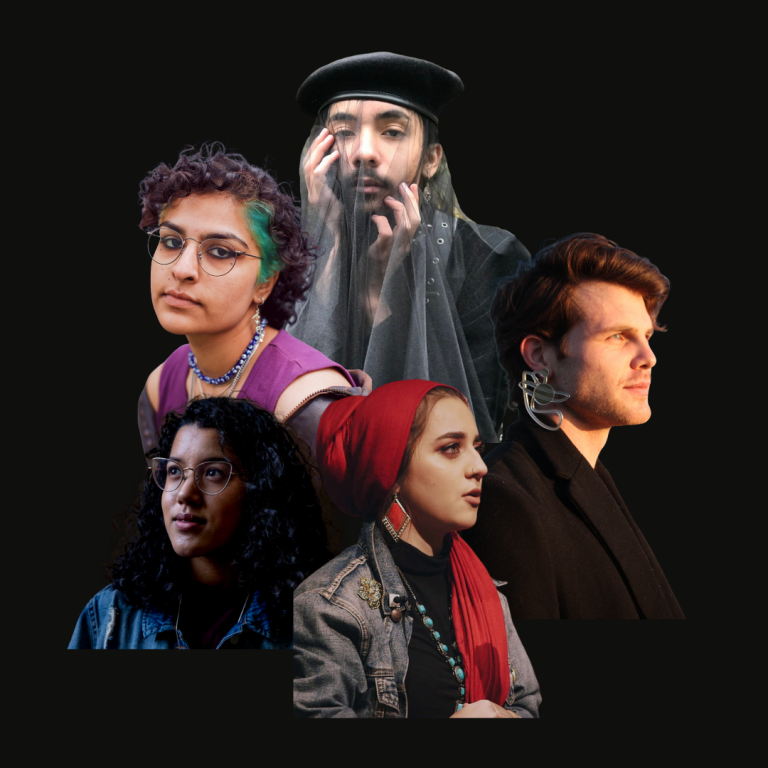 The First Wave Hip Hop Theatre Ensemble (FWTE) is a groundbreaking collective of spoken word poets, emcees, dancers, singers, actors, and activists from across the United States. FWTE represents the First Wave Hip Hop & Urban Arts Learning Community at UW-Madison, the world's first and only full tuition scholarship for Hip Hop and urbans arts. They create works that unpack the personal narrative as a route to academic engagement, artistic productivity and community engagement.
They have performed in England, Mexico, Panama, Africa, Australia, and Jamaica as well as across the USA including featured performances on Broadway and annual performance keynote at the Boys & Girl Club Keystone Conference.  Touring Members host workshops and performances in local and regional high school and community spaces.
FWTE Members for 2021-22 are Azura Tyabji (Seattle), Jackson Neal (Houston), Marjan Naderi (DC), Sarah Abbas (St. Louis), & Zachary Lesmeister (St. Louis).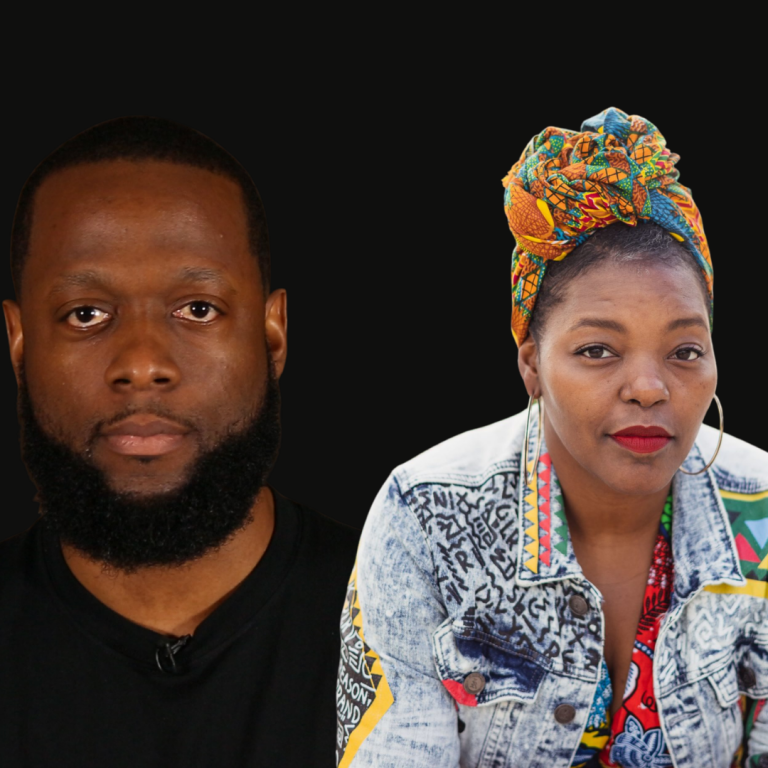 Mahogany L. Browne is the Executive Director of JustMedia, a media literacy initiative designed to support the groundwork of criminal justice leaders and community members. This position is informed by her career as a writer, organizer, & educator. Browne has received fellowships from Agnes Gund, Air Serenbe, Cave Canem, Poets House, Mellon Research & Rauschenberg. She is the author of recent works: Chlorine Sky, Woke: A Young Poets Call to Justice, Woke Baby, & Black Girl Magic. Browne is the founder of the diverse lit initiative, Woke Baby Book Fair; and is excited about her latest poetry collection. I Remember Death By Its Proximity to What I Love is a book-length poem responding to the impact of mass incarceration on women and children). She is based in Brooklyn and is the first-ever Poet-in-Residence at the Lincoln Center.
Register for Passing The Mic
Past Festival Information
This is an accordion element with a series of buttons that open and close related content panels.
2020 Performers/Guests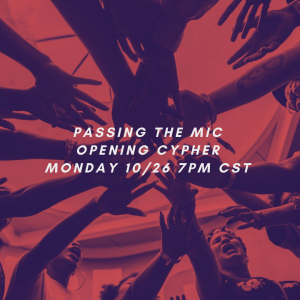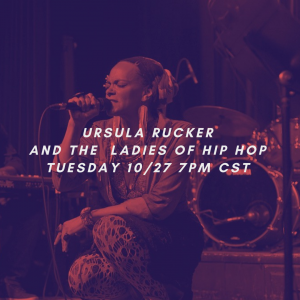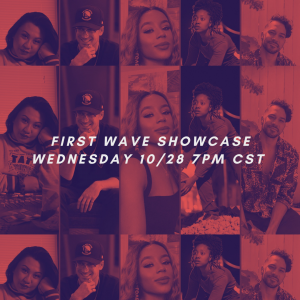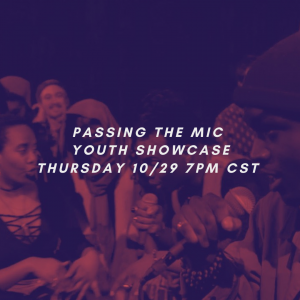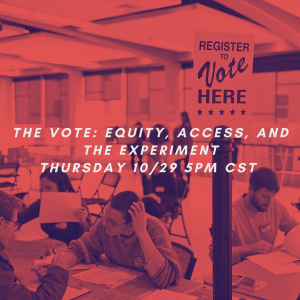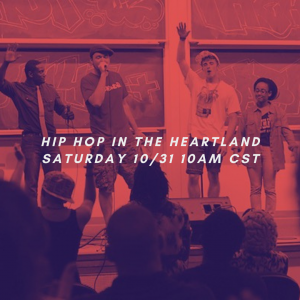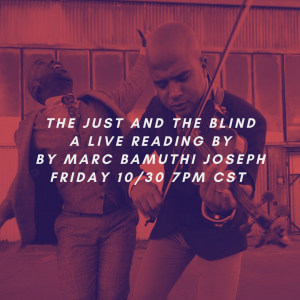 2016 Performers/Guests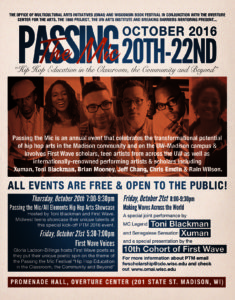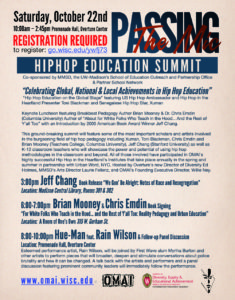 2014 Performers/Guests
Reginald Gaines: Grammy and Tony nominated winning writer.
Chinaka Hodge: Poet, educator, playwright and screenwriter.
Shawn Peters: Lecturer, journalist, author, UW-Madison Professor.
Kevin "Khao" Cates: Multi-Platinum Producer and creator of the Bridge DA Gap Curriculum.
Gloria Ladson-Billings: Kellner Family Professor of Urban Education in the Department of Curriculum and Instruction at UW-Madison.
Maisha T. Winn: Professor of Curriculum and Instruction at University of Madison-Wisconsin.
Dasha Kelly: a nationally-respected writer, artist and social entrepreneur.
Rain Wilson: Poet, playwright, visual artist, and Associate Artistic Director for First Wave.
Paul Hastil: Musician of New Breed Jazz Jam
Nick Moran: Musician of New Breed Jazz Jam
Robert Schoville: Percussionist
2013 Performers/Guests
Dominique Ricks: First Wave Scholar
Erika Dickerson: First Wave Scholar
Thiahera Nurse: First Wave Scholar
Rain Wilson: Poet, playwright, visual artist, and Associate Artistic Director for First Wave.
Dakota Alacantra-Camacho: First Wave Alumni
Richard Davis: American Jazz Bassist, UW-Madison Professor of Music
Gia Scott Heron: spoken word artist, poet, writer and author.
Lemon Andersen: American poet, spoken word artist and actor.
2012 Performers/Guests
Robbie Q.: American poet and poetry slam performer.
Frank X Walker: Poet, co-founder of Affrilachian Poets.
Lynda Barry: Discovery Fellow, American cartoonist, author, and Assistant Professor at UW-Madison.
Marques Toliver: Multi-instrumentalist, singer-songwriter, musician.
Amaud Johnson: Poet, UW-Madison English Professor
Wendy Vardaman: Poet, teacher, Co-editor.
Sarah Busse: Co-editor
CX Dillhunt: Author
Christopher Walker: UW-Madison assistant professor of Dance and First Wave Hip-Hop Theater Ensemble artistic director.
Bruce Dethlefsen: Wisconsin Poet Laureate
Brenda Cárdenas: Poet
Kimberly Blaeser: Creative Writing and Native American Literatures Professor at University of Wisconsin-Milwaukee, poet.
Cathryn Cofell: Poet, educator, motivational speaker, voice artist.
Shameaca Moore: First Wave scholar
Myriha Burton: First Wave scholar
Janel Herrera: First Wave scholar
Taylor Scott: First Wave scholar
Zhalarina Sanders: First Wave scholar
Paul Hastil: Musician of New Breed Jazz Jam
Nick Moran: Musician of New Breed Jazz Jam
Robert Schoville: Percussionist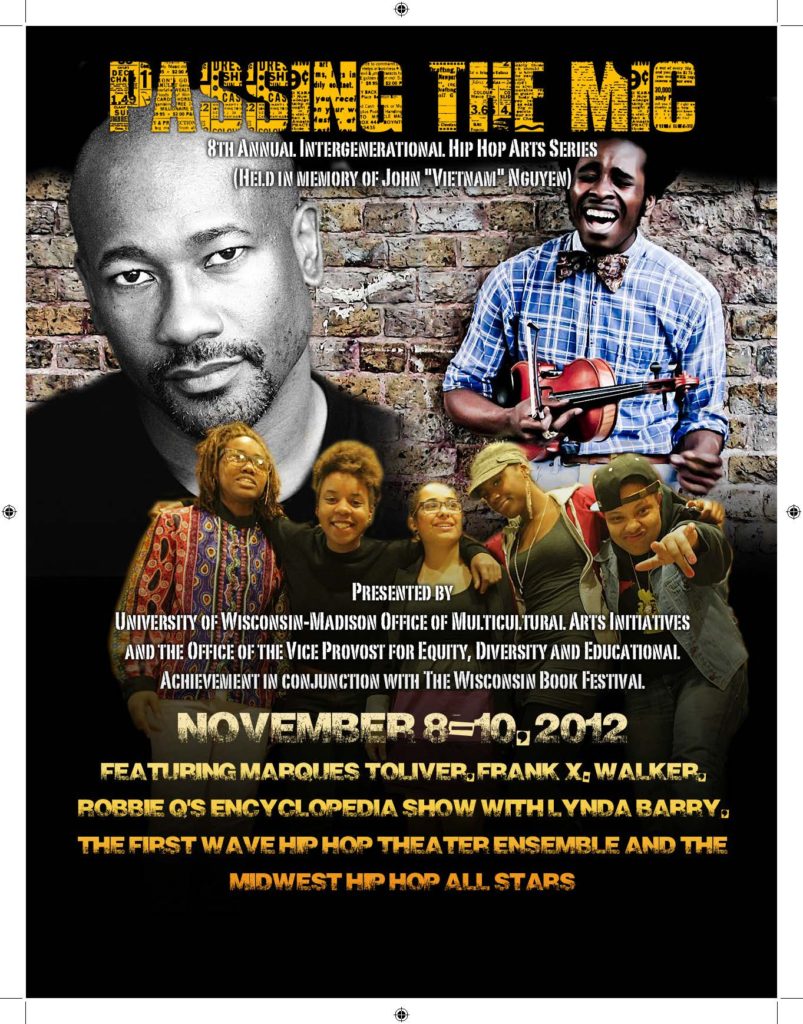 2011 Performers/Guests
Mayda del Valle: Poet, performer, teaching artist.
Black Ice: Poet from Russell Simmons' Def Poetry Jam.
Robbie Q.: American poet and poetry slam performer.
Shanny Jean Maney: Performance poet and teacher.
Sonia Sanchez: Poet, Mother, Professor, National and International lecturer on Black Culture and Literature, Women's Liberation, Peace and Racial Justice, sponsor of Women's International League for Peace and Freedom, board Member of MADRE, author of over 16 books.
Danny Simmons: Abstract expressionist painter.
Jessica Care-Moore: Internationally renowned poet, publisher, activist, rock star, playwright, actress, educator, thespian, filmmaker, performance artist, producer, five-time Showtime at the Apollo winner, and CEO of Moore Black Press.
2010 Performers/Guests
Mark Gonzales: Poet, educator, and international thought leader in using storytelling as a global health strategy. He is currently creating a model to unite youth artists inside juvenile halls with those within high schools through multi-media poetry to engage students in ending cycles of violence and emptying prisons.
Liza Garza: Emmy Award-nominated Liza Garza is a poet, vocalist and songwriter.
Susana Chávez Silverman: Poet and Professor of Romance Languages and Literature at Pomona College in Claremont, CA.
First Wave 2010 Hip Hop Theater Ensemble: "Turbulence: The Eve of Crashing"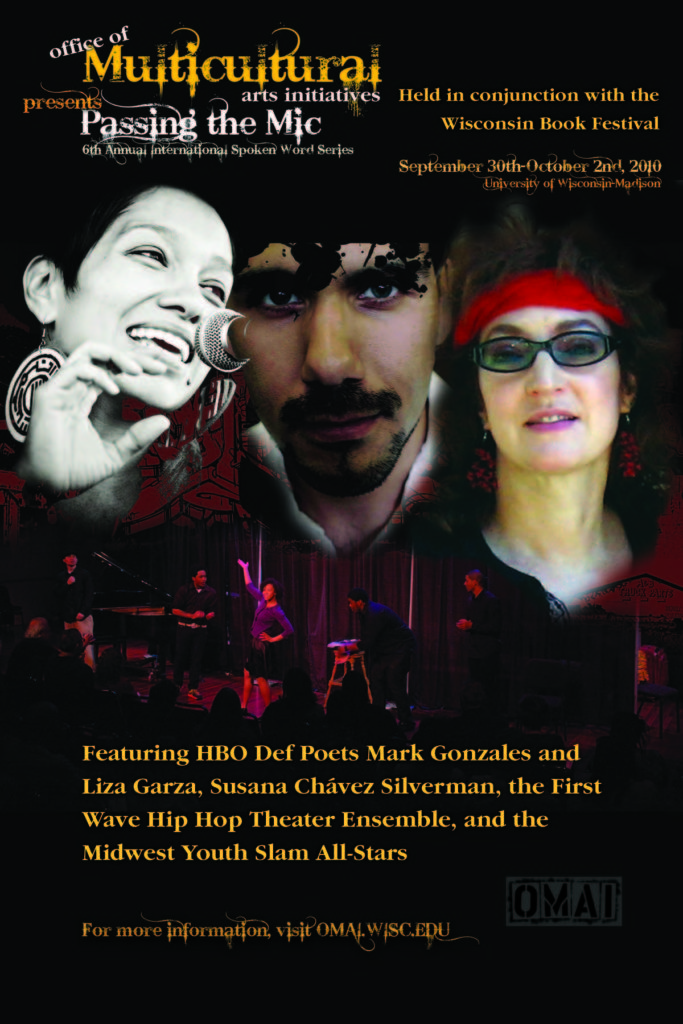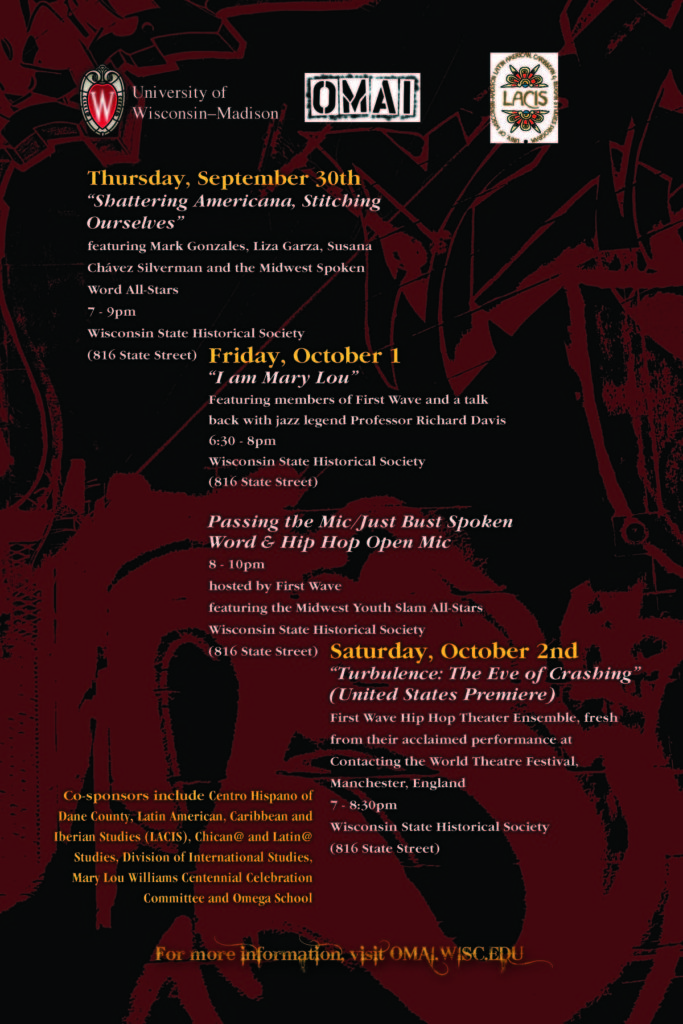 2009 Performers/Guests
Youth Speaks Hawaii (Elizabeth Soto, Jamaica Osorio, Ittai Wong, Bruce (Alaka'i) Kotrys): Youth Speaks Hawai'i, a program of non-profit Pacific Tongues, supported by the Hawai`i Arts Alliance, promotes teen literacy and civic engagement through the performance art of slam poetry by offering weekly writing workshops, hosting monthly poetry slams and open mics, organizing interscholastic poetry slams, and sending a youth team to national competition every summer.
Marty McConnell: Poet, Spoken Word artist.
Gregory Landau: Award-winning music/video producer, educator and music historian.
Phillip Montalban: Singer, songwriter, producer born in Nicaragua was part of a musical group called Soul Vibes.
Guillermo Anderson: Honduras's best-known World Music Artist.
Latisha Jones: Spoken word Artist, Activist, Educator, and Organizer based out of St. Paul, MN. Also, the founder, executive, and artistic director of a developing non-profit arts organization, TruArtSpeaks, Jones teaches performance art and creative writing in schools throughout the Twin Cities area as well as in prisons and other facilities with youth programming.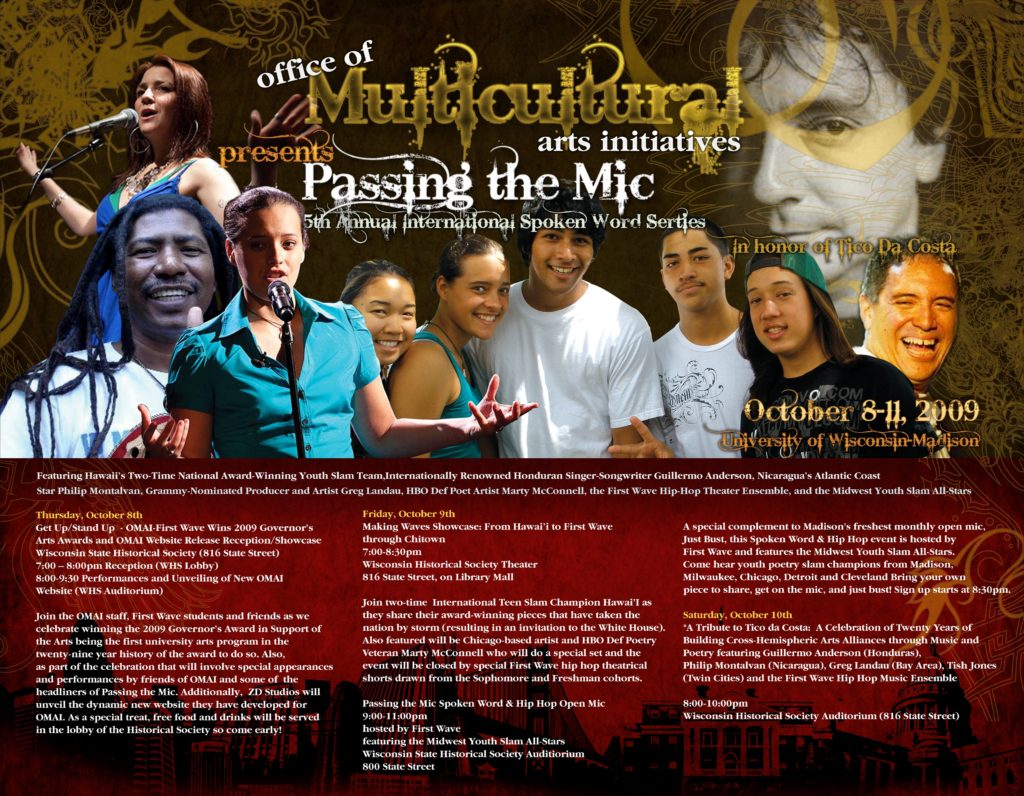 2008 Performers/Guests
Patricia Smith: Poet, spoken-word performer, playwright, author, writing teacher, and former journalist. She is on the faculties of the Stonecoast MFA Program in Creative Writing and the Low-Residency MFA Program in Creative Writing at Sierra Nevada College.
Dennis Kim: Hip-Hop and Spoken Word artist from Chicago, and a co-founder of I Was Born With Two Tongues, an Asian American spoken word quartet, and Typical Cats, a Chicago-based hip hop collective. He is a teaching artist at Youth Speaks, Inc.
Josh Healey: Award-winning writer, performer, and creative activist.
Kevin Coval: Poet, playwright, educator, organizer, Artistic Director of Young Chicago Authors.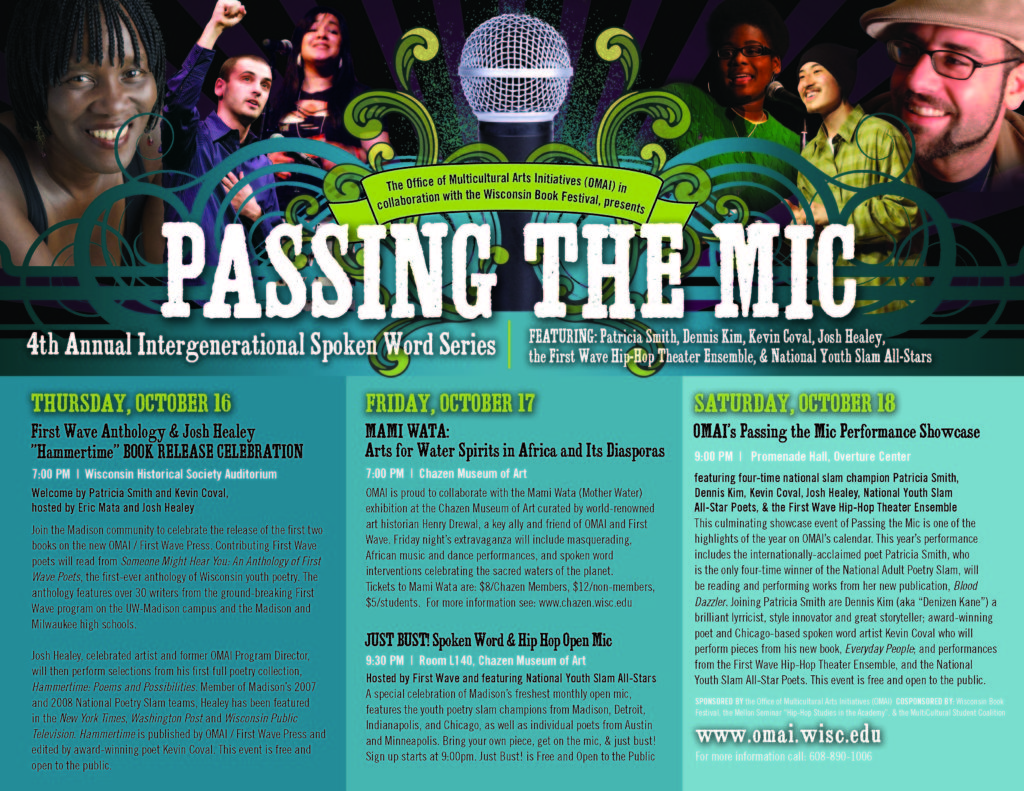 2007 Performers/Guests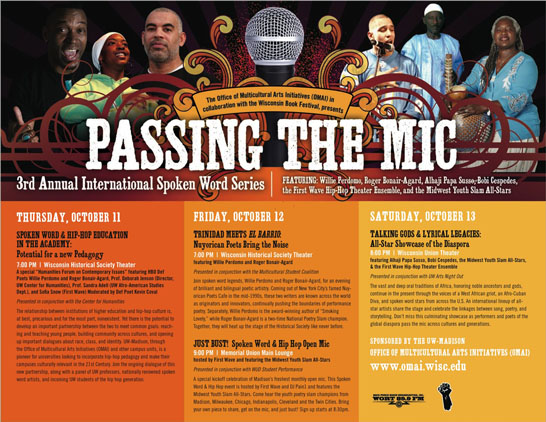 2006 Performers/Guests