Gunman Xuman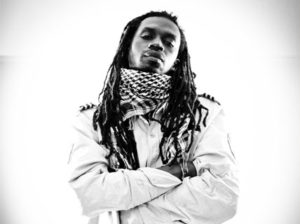 Makhtar Fall aka Gunman Xuman is a Senegalese Hip Hop Pioneer, social justice activist, and TV Co-Host of the popular Journal Rappe that innovatively raps the news and educate audiences on the social, environmental, political and other issues that affects Senegal, Africa and the world. Xuman's current work in Journal Rappe is in the intersection of Hip Hop, music, social and environmental justice, politics, education, African culture, and journalism to promote democracy, good governance, Gender and human rights, human and environmental health.
He started in the 90s as a leader of the group Pee Froiss along with Daddy Bibson, Sister Joyce, Sun Souley, Aladjiman, Kool Koc-Sis and Dj Gee Bayss. Born in Ivory Coast but raised in Senegal, Xuman started rhyming in the popular Dakar neighborhood of Fass in at an early age. His superb writing skills combine with his stage presence quickly made him rise to prominence in the emerging underground Dakar rap scene circa 92. In the early 90's Positive Black Soul (PBS) was the most prominent Hip Hop group and in recognition of his immense talent, PBS produced the first album Wala Wala Bok for his group Pee Froiss in 1996. The album was an instant hit and thanks to Africa Fête's Mamadou Konté, the maiden album opened doors for big festivals in Senegal and abroad. Years later and with 6 albums (4 with his group Pee Froiss), Xuman is one of the major actors of Senegalese hip-hop and has performed on the biggest stages like the Würzburg Festival, the Summer jam in Germany, Pireneos in Spain, Festival Boulevard of Casablanca, Ouaga Hip-Hop in Burkina Faso, Gabao Hip-Hop in Gabon, La Friche in Marseille, and festivals in Congo, Algeria, and more. In 2007, he released his first solo album "Gunman" and won the award for the "Best Song" during Hip-Hop Awards in Senegal. Later that year, Xuman will also win the trophy for "Best Performance" at the China International Arts Festival in Shanghai. In 2008, he was part of the West African Project AURA (Artistes Unis pour le Rap Africain) to promote children's rights in Africa with 17 other artists.
Since April 2013, Xuman and good friend Keyti launched Journal Rappe that has garnered both national and international praise. Through actively engaging youths and adults in music, Hip Hop, education and innovative approach to rap the news "Journal Rappe" has been highly effective in bringing attention to wide range of issues ranging from social, environmental, political, cultural, and  more in Senegal and other countries. As a result of his work, Journal Rappe as an innovative concept to deliver the news and a platform for freedom of expression among youths is now taking roots in countries like Cote D'Ivoire, Mali, Madagascar, and as far as Jamaica in the Caribbean. Xuman is a co-founder of  Jamarek (Peace Only) a nonprofit organization that seeks to create a safe and resourceful learning environment for kids, and provide medical equipment and supplies to medical facilities and disable in Senegal, Xuman is well known around Senegal for his commitment for democratic advancement and social justice. Xuman has also collaborated with artists such as Didier Awadi, Tiken Jah Fakoly, Dead Prez, Da Brains, Nix, Simon, Takana Zion, Saïan Supa Crew, and the group Daara J.